Piraeus, 16.10.2018
The Union of Greek Shipowners (UGS) had the pleasure to welcome to its premises the Board of Directors of Danish Shipping in the context of the bilateral meetings of the two national shipowners' associations.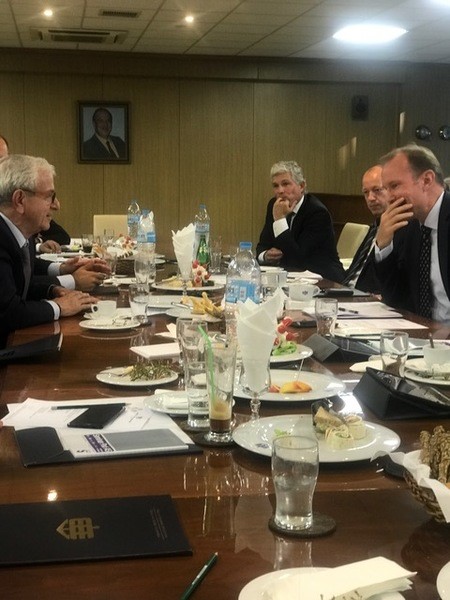 Representing two traditional maritime nations, the Board of Directors of Danish Shipping, headed by its Chairman, Mr. Niels Smedegaard, met with the President, Mr. Theodore Veniamis and members of the UGS Board of Directors and engaged in what was described by both sides as "an open and constructive dialogue" on an array of important shipping issues.
"We appreciate the opportunity to exchange views and hold fruitful discussions with our Danish colleagues and we are particularly pleased that they share the same willingness for collaboration and mutual understanding of viewpoints and positions, as the UGS", Mr. Veniamis commented.

The meeting reaffirmed the fact that, regardless of any sectorial differences, the shipping industry stands united in support of the principles of free trade, open markets and free and fair competition in an international level playing field. The two associations stressed the strategic importance of EU shipping for the EU's prosperity and for the welfare of its citizens, pointing out that the strategic role of EU shipping, especially in serving the extra-EU trade and securing the EU's energy supplies and other essential goods, should be highlighted at all levels.
Regarding the various environmental issues, it was underlined that Danish Shipping and the UGS are firmly committed to what has been agreed at the United Nations International Maritime Organization (IMO), in respect of both the 0.5% global sulphur cap in marine fuels, the carriage ban on non-compliant fuels and the further Greenhouse Gas (GHG) emissions reductions from ships. In this context, the two associations stress the need for all related stakeholders to provide the shipping industry with the necessary safe and fit for purpose fuels. Both associations also support the UN IMO decisions and process leading to the decarbonisation of global shipping as soon as possible this century, noting, however, that this will require carbon-free fuels and new technology for all shipping sectors.
"From the meeting with Danish Shipping, it became clear that, despite differences in approach and priorities, there is clearly a lot of common ground between the two associations which we are keen to further develop", Mr. Veniamis stated.
Mr. Smedegaard stated " that both UGS and Danish Shipping have a mutual interest in developing a responsible global shipping industry leading the way forward in facilitating trade and keeping a global level playing field when it comes to environmental and climate related regulation. Uniform implementation of regulation and strong enforcement is of the essence".

The two associations have committed to further enhancing their cooperation on matters of mutual interest with the UGS visiting Copenhagen in the not-to-distant future and certainly within 2019.